Nothing is more exciting about a New Standard Magic The Gathering Set! Where we get to be introduced to new mechanics, cards and promos. So let's talk about what this new set brings to the community.
PRERELEASE SPECIAL PHYREXIAN DICE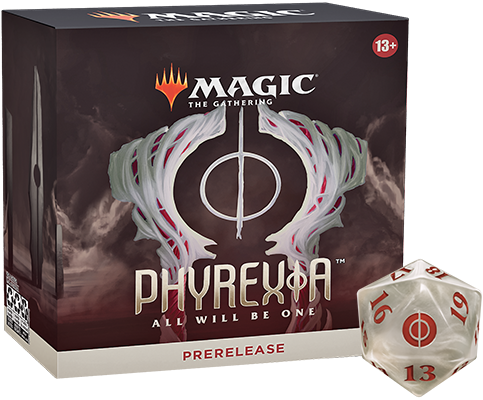 1 - 15 Prerelease packs there will be a Phyrexianed Spindown dice instead of the other 5 mana colored spindowns. Making these spindowns a great addition to their collection
For those who never seen or opened a Prerelease pack, you should expect to get 6x Draft Booster Packs + a foil stamped promo + a spindown. This is where you would use these packs to build a 40 card deck and play in the Prerelease Tournament on the 3rd and 4th.
Prerelease are designed to be a casual event (with tons of prizes) to celebrate a new set release with your community and store. So this is defiantly an event you want to be at!
LIMITED MAGIC 30TH ANNIVERSARY PROMOS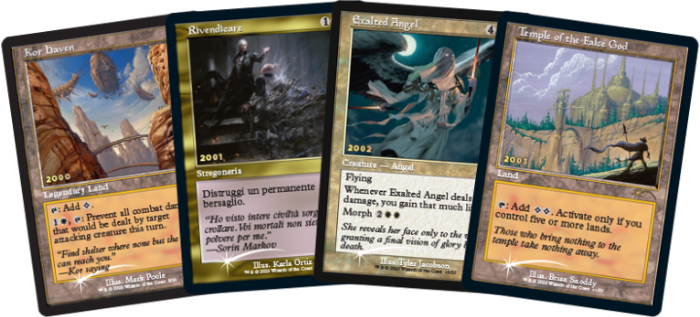 The celebration continues with Magic 30th anniversary at WPN stores such as Howayte! When participating in our Prerelease event, you will get 1 of each promo (While supplies Last)
These are highly collectible and if you are able to complete the whole set, you will end up with a collection of Magic The Gathering History. How cool is that!!
LOVE THE SET? BUY A BOX AND GET A PROMO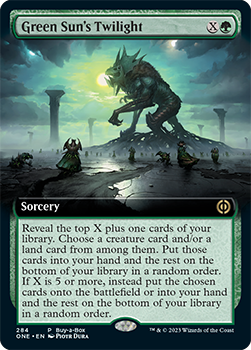 The new Green Sun's Twilight is a great addition to any green deck running a bunch of creatures or land matters deck. This is a solid card and you can get this artwork exclusively as a Buy-a-Box Promo.
Want to order a box? Check the link here.
PACKS ARE SUPER FUN TO OPEN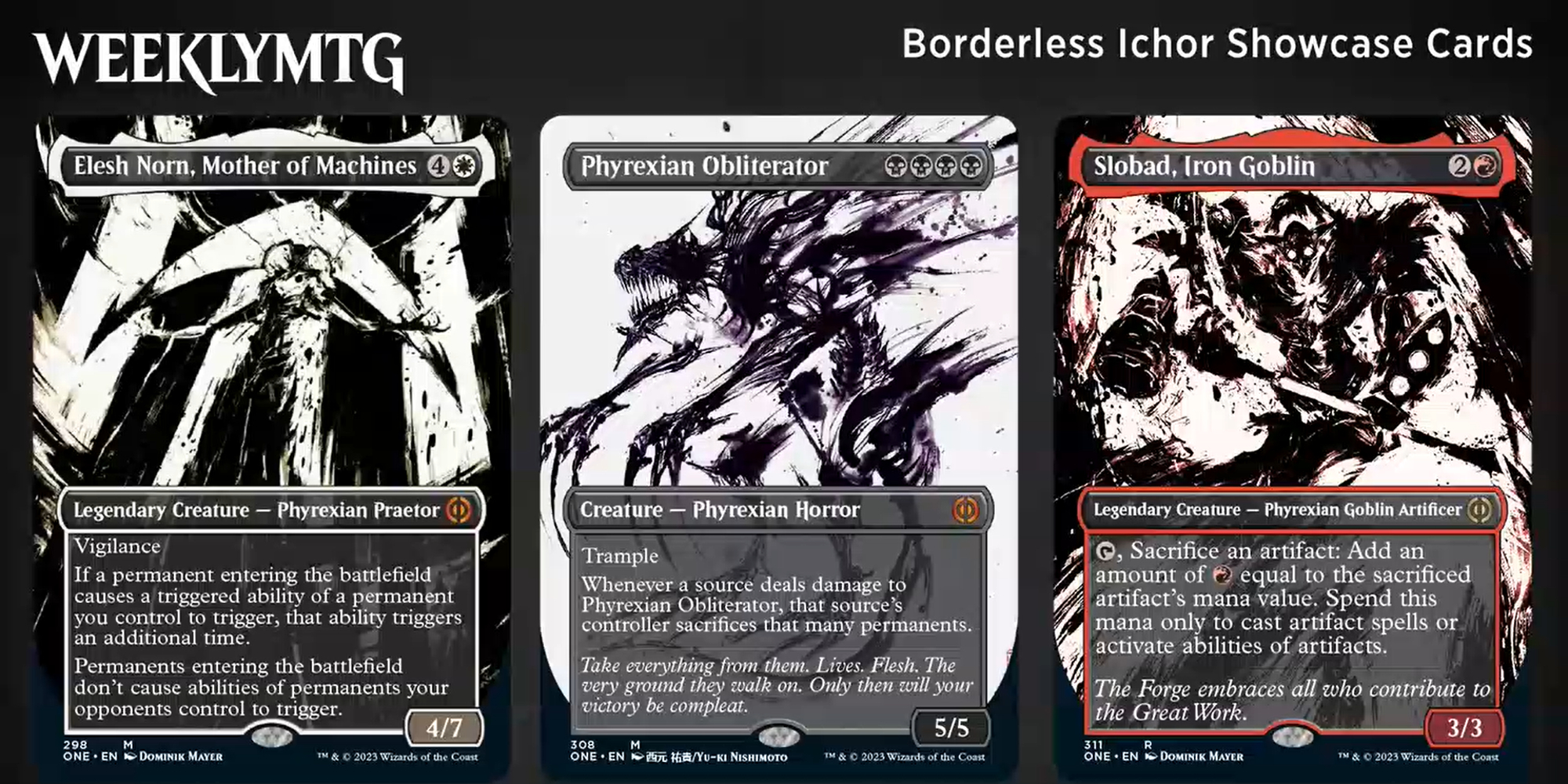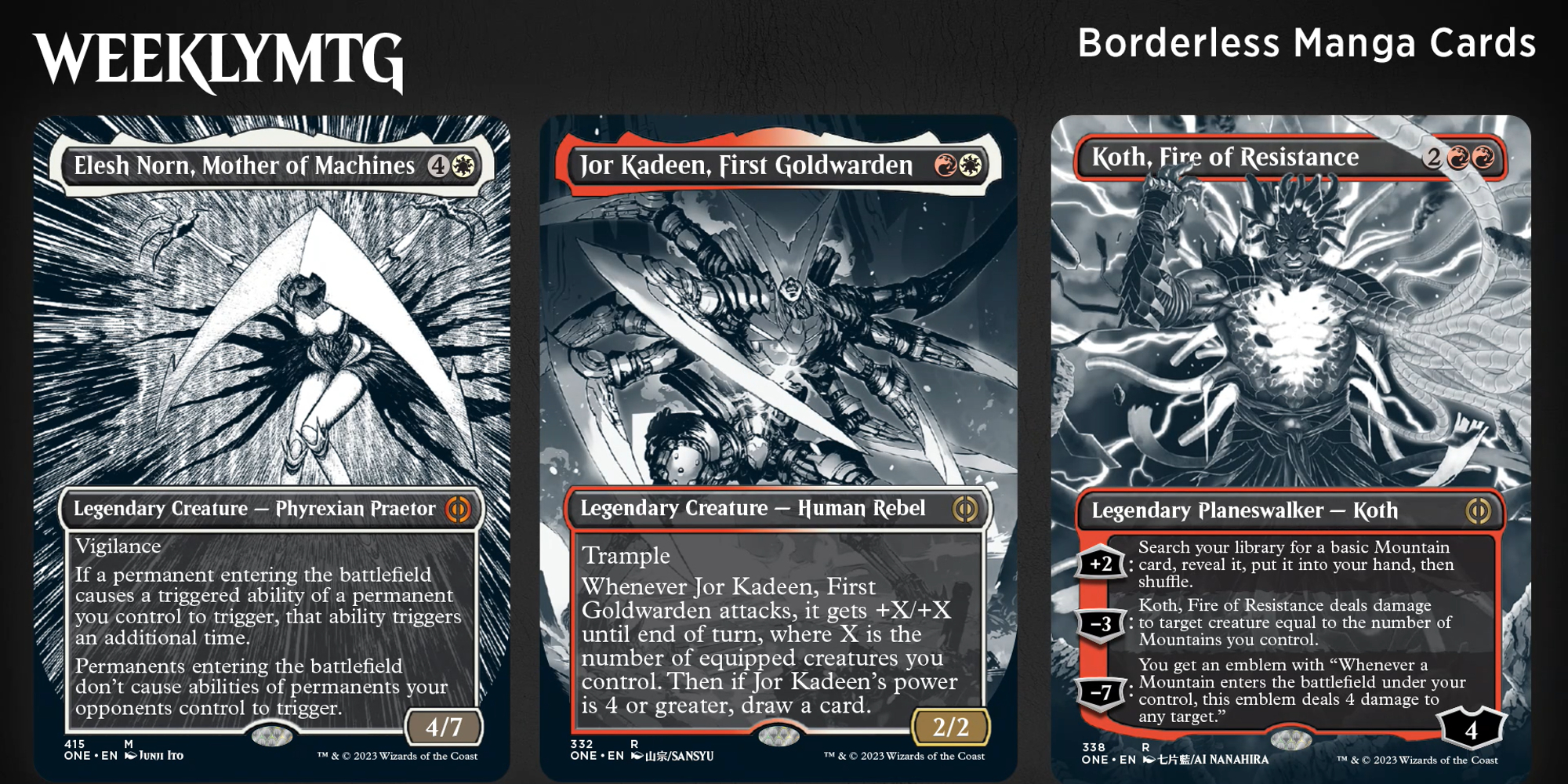 CRAZY SPECIAL TREATMENT of cards can be found Set Boosters, Collector Boosters! Set Boosters have at least 1 Ichor Showcase per pack and the sweet looking heavy metal themed basic lands!
WHAT YOU WILL FIND ON RELEASE
February 10th everything we order will arrive! One of the most popular formats got 2 new Sweet Commander Decks! Did you know each of these decks actually gets a sample collector pack? :D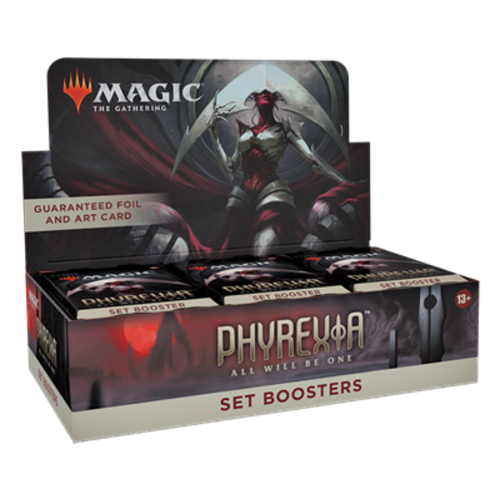 Set boosters are by far the most fun to open! Unlike collector boxes which are designed for collectors and draft boxes for drafting. Set Boosters offer a unique experience by having multiple chances of rares and mythics as well as access to "The List" cards which are random older cards from Magic the Gatherings History! We will also be selling booster packs individually.
STORE CHAMPIONSHIP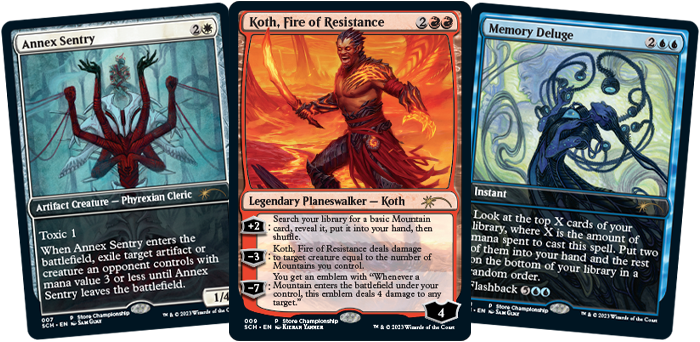 For all you competitive players, we got your covered! Wizards of the Coast has officially rebranded Game Day as Store Championship and has provided with sweet looking promos only available during this event. 
We will be hosting this event on the 25th as a Sealed Deck Tournament (6 Booster Packs) where you will build a deck and compete to win promos and big prizes! (Prizes coming soon)
Participation promo: Annex Sentry
Top 8 Promo: Memory Deluge
First Place Promo: Koth, Fire of Resistance
 DATES YOU SHOULD KNOW ABOUT
Feb 3rd: Preorder Deadline
Feb 3rd & 4th: Prerelease Events (1PM and 6PM on Friday and 2PM on Saturday)
Feb 10th: Phyrexia: All Will Be One Release Date.
Feb 25th: Store Championship - 6 Pack Sealed Event.
REGISTER YOURSELF TODAY!
Use the MTG Companion App on your phone to pre-register yourself for Prerelease. If you are one of the first 12 players to do so, we will even give you an extra 30th anniversary promo card.
1PM Friday Prerelease Code: 3G5PPMP
6PM Friday Prerelease Code: 62WYYG2
2PM Saturday Prerelease Code: M4Q3JZG
We hope you guys are just as excited as us for this new an awesome set! So let the infection BEGIN!